In New England in the 1800s, there was a handful of traveling artists, who in addition to painting portraits, provided decoration for the walls of their clients' homes. They painted landscape murals that featured, most notably, huge stylized trees in the foreground. The most famous of these itinerant painters was Rufus Porter.  A "Portland Maine boy," the industrious and multi-talented Porter (dance teacher, author of many original patents, editor of Scientific American….) developed particular painting techniques and published a "how-to" book detailing his methods.  The creation of these landscape murals by Rufus Porter, his nephew Jonathan Poore, and a few others was the first purely American Art Movement.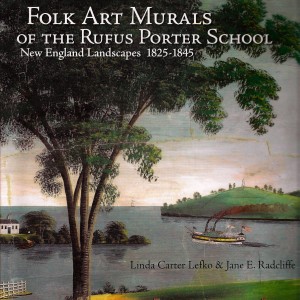 If you are interested in this Early American art form, you will enjoy the book entitled:  FOLK ART MURALS OF THE RUFUS PORTER SCHOOL, New England Landscapes 1825-1845.  With updated research and 400 colorful images, it is a wonderful resource for artists, designers, and historians. Authors Linda Carter Lefko of Penn Yan NY, is an artist, teacher, and scholar of the historic decorative arts, and Jane E. Radcliffe of the Maine State Museum is a Rufus Porter researcher and an adviser to the Rufus Porter Museum. The book is published by Schiffer LTD.
I love the boldness of these murals, the simplicity in design and palette, as well as the tiny peculiar details that made each commission unique. If you think you might like a mural painted in this style, or if you'd like a contemporary "Itinerant Artist" to travel to your area and paint in another style for you… well, that would be ME and I'd love to talk to you about it!