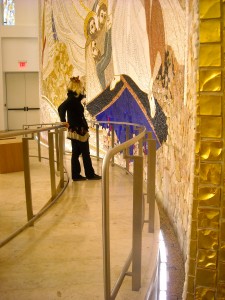 I think it was "religious mosaics" or maybe "sacred icons, mosaic" that I was googling months ago when I found an on-line video that showed the making of some monumental mosaic walls.  I was fascinated by what I saw and inspired to take a trip to see these mosaics.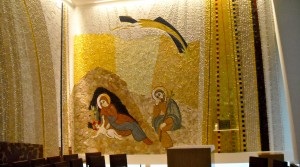 The Chapel of the Holy Spirit is on the campus of Sacred Heart University in Fairfield, Connecticut.  Its contemporary architecture was designed by Sasaki, Associates of Watertown, MA. and it showcases the majestic mosaic work of artist and Jesuit Priest, Father Marko Ivan Rupnik of Rome.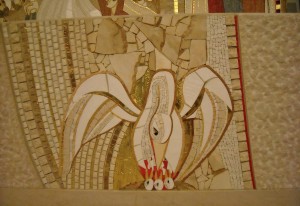 Fr. Rupnik and his crew of European artisans used glass, tile, and stone in the creation of 1,200 square feet of mosaic.  The main sanctuary features images of Jesus with his disciples, Adam and Eve, and Mary.  The smaller Chapel of the Nativity walls show the Holy family in a cave with animals, and the arrival of the Magi.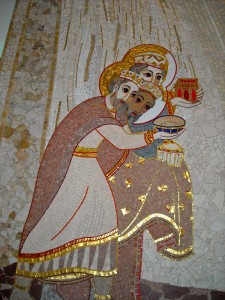 We were welcomed as visitors and they graciously allowed us to take photos!
I too am planning to do more sacred mosaic work (on a smaller scale)…in a style that is slightly loose and painterly.  Maybe you would  enjoy speaking with me about creating a piece for your home or place of worship.  I would love to discuss your ideas with you!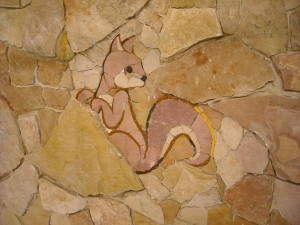 also see:  http://www.sacredheart.edu/download/3786_chapel_guidebook_spreads.pdf
view the videos:   http://www.sacredheart.edu/page/27735_piece_by_piece_the_mosaic_murals_of_shu_s_new_chapel_take_shape.cfm